A.C. Williams Co. Ravenna, Ohio
1886 to date
Founder: John W. Williams
Specialty: Produced cast-iron, horse-drawn rigs, autos, airplane, and tractor toys from 1893 to 1923; line included mostly miniatures distributed through Woolworth, Kresge's, and other five-and-dime stores.
When A.C. Williams, Jr. bought his father's business, the A.C. Williams Co., in 1886, it was a leading manufacturer of hardware items in Chagrin Falls, Ohio. After fires in 1889 and 1892 destroyed the Chagrin Falls operation, Williams decided to move the company to Ravenna, Ohio. It was soon after this move that a Detroit buyer suggested that the miniature product models carried by the company salesmen would make nice toys. This suggestion led to the beginning of the A.C. Williams Company's venture into toy and bank manufacturing.
The expansion into toy production soon increased, making the company the largest toy and still bank manufacturer in the world, bringing them well-known chain store customers like Woolworth's. The company's production of still banks grew rapidly, including large numbers of character, animal, transportation, and building bank types. Production boomed until the beginning of World War II, when iron was needed for military consumption. After the war, the company continued to manufacture toys until 1977, although bank production was never resumed.
Jouets anciens en fonte .
+++++++++++++++++++++++++++++++++++++++++++++++++++++++++++++++++++++++++++++++++++++++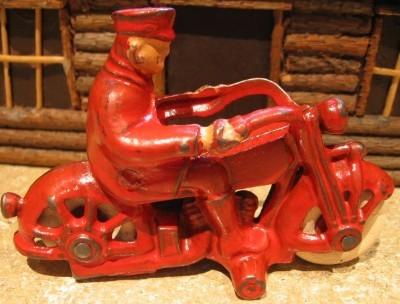 +++++++++++++++++++++++++++++++++++++++++++++++++++++++++++++++++++++++++++++++++++++++
photos du site : http://www.motomini.com/toya.html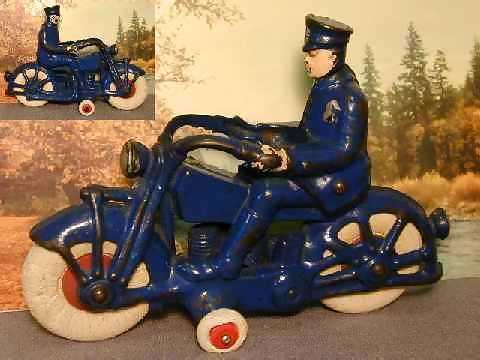 ---------------------------------------------------------------------------------------------------------------
+++++++++++++++++++++++++++++++++++++++++++++++++++++++++++++++++++++++++